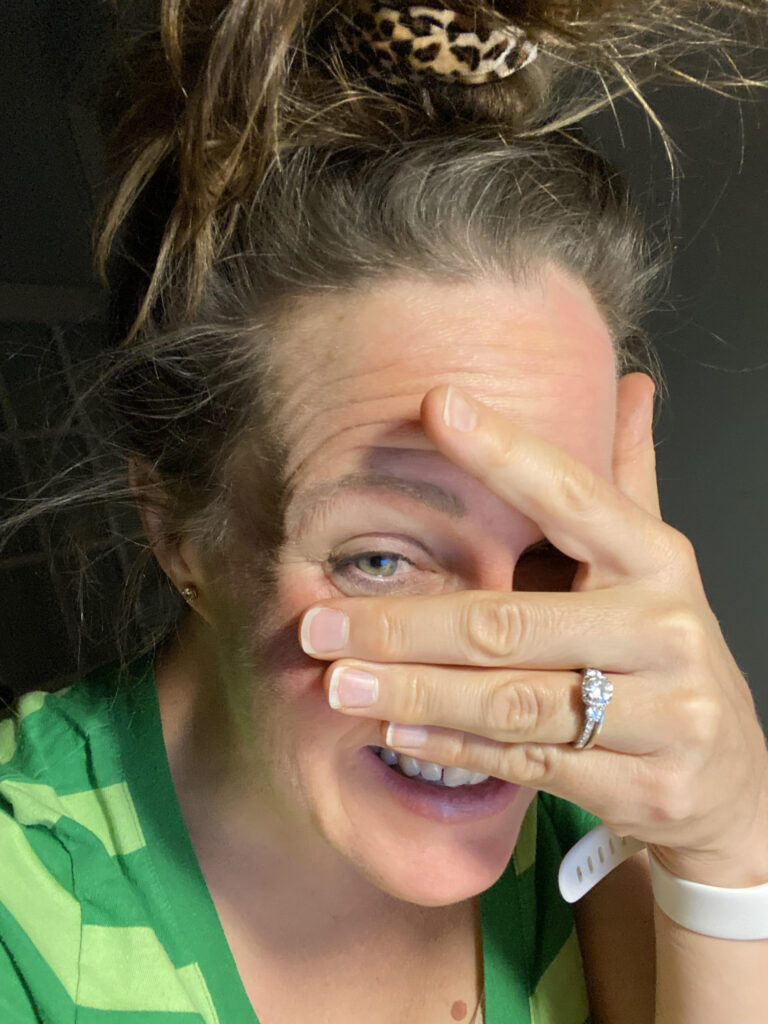 So I actually wrote this a few weeks ago but I've hesitated to put it up, for reasons that will immediately become obvious. I am not a fitness blogger nor do I have any desire to EVER be one, but I *DO* really enjoy reading about REAL people and their REAL struggles/successes to manage their health. Anyone who has known me for a decent chunk of time knows that sometimes my weight is up, sometimes it is down, but it is ALWAYS something I'm working on. So I share this for two reasons…the first is to remind MYSELF how much I accomplished in the unlikeliest of times, and the second is to show anyone who's interested something that worked for me that MIGHT work for them.
Here I am: 41 years old and 39.5 weeks pregnant.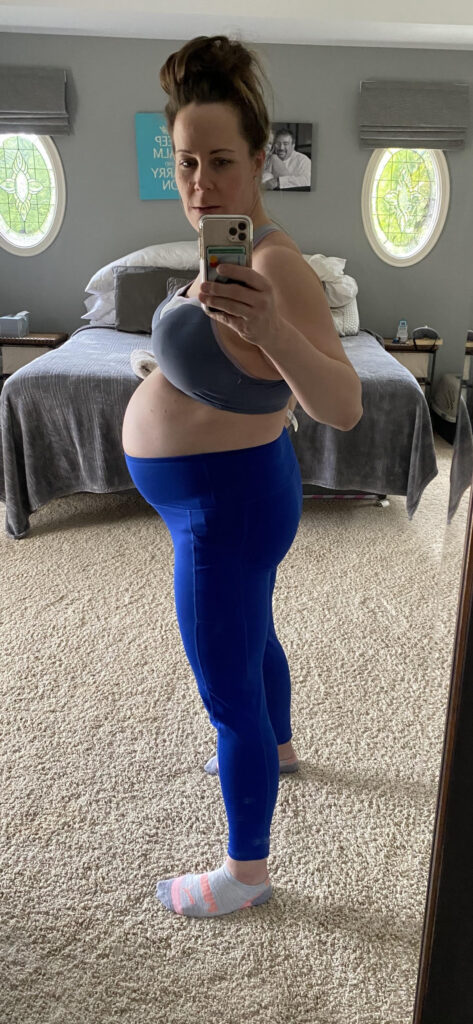 I can't believe I am posting a picture of this on the internet, but I also can't believe that I am so HAPPY with my body at this age/stage of life, and I feel like it's worth documenting. I mean, aren't women supposed to feel crappy at the end of pregnancy? The truth is, I would take THIS geriatric pregnant body and all its strength and energy and general badassery over my high-school three-sport-athlete body or my 25-year-old gym-addicted, carb-phobic one. THAT acceptance in itself is an accomplishment worth shouting about.
Part of it is timing, right? I knew going into pregnancy, at my age, after multiple miscarriages, and this time, in the middle of a pandemic, that I had to be as healthy as possible to give me and the babe a fighting chance should any challenges come our way. So I trained for pregnancy and giving birth as if it were an athletic event. Also, for me, anyway: pandemic living lends itself well to structure, and this was helpful as opposed to traveling a lot and running around from event to event like a crazy person. Right now, there is literally NOTHING going on that could get in the way of my routine.
Here's what I did:
Strength: Workouts every weekday, first thing in the morning, courtesy of the amazing prenatal program in the Tone It Up app. I think I only skipped maybe 5 weekdays all pregnancy. The workouts were short and challenging (if they were longer than 20 minutes I just split them in half over two days because I refused to exercise longer than that). I absolutely LOVE everything Katrina Scott does. She is so incredibly positive and uplifting and encouraging and EXACTLY what I need to start my day each and every day.
Cardio: 2,457,462 steps over nine months, per my FitBit. It averages out to just shy of 9k steps a day, which is not bad considering, ahem, WINTER IN MICHIGAN. My goal was 10k steps as many days as I could.
Flexibility: Prenatal yoga, as included in the @toneitup prenatal program, and then in the third trimester I added another practice I bought from www.spinningbabies.com because I was terrified my baby would be breech (read about that HERE). This was at the suggestion of my nurse case manager and it was VERY gentle and a great addition at the end when my body was getting a little more tender.
I always have energy in the morning, so that's why I did my strength training or yoga then…before I had a chance to get tired or not feel like it. As for the steps…I usually snuck out for a neighborhood walk around 2:30 to get those in, to wake myself up a little after working in my home office all day. It was a good time to return phone calls, too…so THANK YOU to everybody who put up with my huffing and puffing as the months went on. It did NOT sound pretty, but I rarely skipped unless the weather was AWFUL, because I knew if I stopped moving it would be too hard to get started again.
This little program served me well! As of 39.5 weeks, I gained exactly 25 pounds…right in range with what my OB recommended. I'm pretty sure I put on some legit muscle as well…I mean, LOOK! You can see my TRICEP. I didn't even know I HAD a tricep. ?
Obviously, half of the weight game is nutrition, and that is a story for another post…but I *do* feel like the workouts were responsible for me feeling strong, energetic, and up for anything, even at full term. I am looking forward to starting the Tone It Up postnatal program in early June, once I get cleared to work out. I'll share that journey too, if anyone is interested. I LOVE to hear any stories about others' fitness journeys…whether pregnancy or postnatal related, or just EVERY DAMN DAY related. This is a battle I will fight for the rest of my life, and I feel like we are all in this together.
Would love to hear YOUR comments and experiences. Any workouts working right now for YOU that I should try?
XOXO
Thanks for being a safe place for me to be a little vulnerable here!