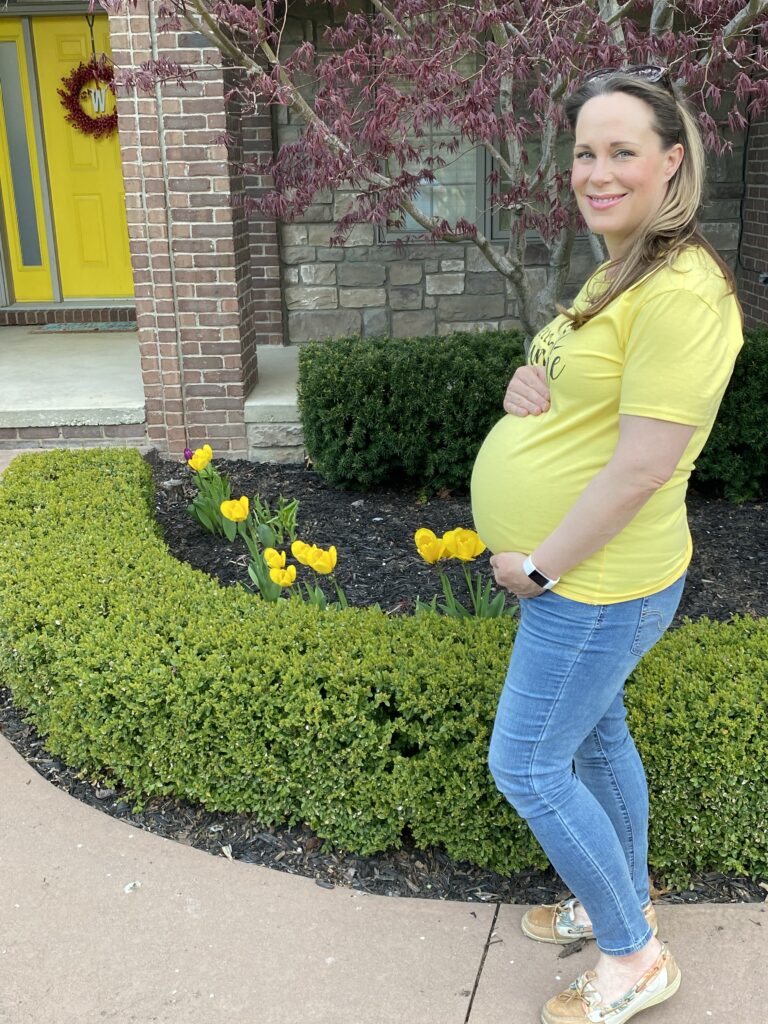 It's always crazy to me how, for all the babies born in this world, every birth story is unique and different. I know this might sound bonkers, but I absolutely love the PROCESS of giving birth, as messy and ugly and painful and raw as it is…all three times. Even before I had a blog, I remember each time trying to write it all down and capture the magic of it before I forgot any of the little details. To me, it is just an amazing confluence of science, nature, medicine, athleticism, love, and women supporting other women.
Unfortunately, I never got to go into labor naturally, despite our best efforts. And BOY, did we put out the effort. Walking, lifting, yoga, hiking, sex, spicy food, nipple stimulation, foot massages, more walking…we tried it ALL to no avail. I guess I just make a comfy home for babies.
Because I was over 35 for all my births, I had an induction scheduled right around my due date every time. (The literature says the risk of stillbirth rises rapidly for older mothers who deliver post-term. As much as I wished for natural, I wanted ALIVE and HEALTHY more.) It actually worked out nicely in a way, because we could plan for it…take the girls to Grammy and Grampy's, arrange for a house/pet sitter (thanks, @lindsey5150!) and drive to the hospital packed, organized, wearing waterproof mascara, and ready to go.
We checked into Ascension St. John's Main at 7pm on April 27th. (We were supposed to go at 6am on the 28th, but during my OB visit earlier in the day, they found I was basically not effaced OR dilated AT ALL. Hence, the doctor wanted me to head in earlier to get my cervix "prepped.")
It was a little weird being masked up, but otherwise fine. (If you remember, the pandemic had re-peaked in Michigan in late April, so no visitors were allowed, except for a single support person.) Our room was large and beautiful…it's so FUN seeing everything all set up for that new little life coming. Haley was our L&D nurse and she made us feel right at home. We got unpacked and settled and got my IV started to keep me hydrated. This time, they had the coolest wireless bluetooth heart rate monitor for the baby that stuck right to my belly. It was SO much nicer than the one with 1000 cords.
At 9pm, the resident came in to check me, and I was significantly more dilated than I had been at the doctor's office that morning (3.5, I think?) but not ready to go into labor by any means. So to get things moving, they put a Cytotech tablet near my cervix and I went to sleep for a while. This was the very same medicine Don and I had to use ourselves at home with my missed miscarriage last spring.
At midnight, the resident came back for another check. Progress to 6 or so, but they used another Cytotech to keep it going. I warned them that my last baby came fast and fierce, but they didn't seem concerned. Anyway, I still couldn't feel any contractions, despite the fact that the monitor was showing them, so we went back to sleep.
At 2:19am, I woke up with a start. THAT was a legit contraction. With W, I labored alone quietly for around an hour and a half before she came flying out, and Don slept through all but the last ten minutes. This time, I woke him up immediately and called the nurse. Things were moving! By 2:45, we woke up the midwife, Sheryl (a real-life friend of ours, too!) because I knew things were really progressing. Sheryl knew my history and got out of bed to head right up to the hospital.
Haley got me a birthing ball to roll around on, and I bounced between contractions for a while. They offered me an epidural, which I declined. (I had no oxytocin on board yet, and I remember from my previous inductions that, for me, contractions are actually pretty manageable without it. Also, I had a feeling things would happen fast.) I just bounced on the ball and tried to breathe through the pain. Don held my hand, rubbed my back, mopped off my neck, and was super supportive…probably to make up for sleeping through the last one. 😉
The next hour and a half flew by. Around 3:45am, it got pretty intense, and I crawled up on the bed into child's pose because I was just exhausted between contractions. I remember thinking, "Why TF didn't I get an epidural?!?" at the exact moment the midwife arrived. Sheryl came in, asked how I was doing, and before I could even get the words out, it felt different. "I think it's time! I'm ready to push!"
They opened the bed and flipped me over, and in a blink the room was filled with supportive staff. Three pushes later, at 4:03am, there was a baby dangling over me. "What is it, Don?!?" Sheryl asked gleefully. After carefully inspecting, he announced proudly, "It's a BOY!"
For the next 30 minutes, it was a happy blur of cord cutting/draining (St. John collects cord blood for free as part of a research initiative), weights and measures (7 lbs 6 oz and 21 ¾ inches), baby cuddles, and pictures. Then I started to get a sinking feeling in my stomach: the afterbirth still hadn't been delivered. I tried squatting a pushing for a bit, and nothing. I tried nursing the baby to stimulate contractions, and still nothing. I had been through this with B, and it is not a pleasant experience.
We started to discuss options: they could take me in for anesthesia and a full D&C, or I could opt to let them attempt to remove the placenta by hand. With B, I went the manual route, and it was pretty brutal…but at least I had an epidural on board. This time there was nothing. We decided to try the manual removal again to avoid the formal procedure. As much as I had wanted a drug-free delivery, I opted for a small dose of morphine (5 units) in my IV to take the edge off. I figured if I was at least SLIGHTLY anesthetized, I could tolerate enough pain to let them do their jobs and hopefully avoid surgery.
This is where it gets a bit graphic. The midwife went in and tried to snag my placenta with no luck. The chief resident tried as well. (This is, to date, the strangest sensation I have ever experienced…to feel someone trying to grip one of your internal organs. It's wild.) Finally, the surgeon came in, and as a last-ditch effort, he tried a different technique. Before reaching in, he aggressively "massaged" my belly instead…to the point where they warned me I would likely be bruised the next day. After several minutes, he tried to reach in once more…and my placenta came right out. I feel like everyone cheered. They told me it was apparently never a "true" retained placenta (as in, it didn't remain attached to an internal blood supply) but rather just "stuck."
And what was Don doing this whole time? Skin-to-skin time with his new baby in the corner…not a care in the world. (I wouldn't have wanted to watch this process, either.) If mama was preoccupied, someone had to love on baby! Don didn't hesitate for a second.
As quickly as it began, the room was cleaned up and cleared, and they brought the baby to me to nurse. Sheryl stayed and chatted with us for a bit about weirdly normal things, like old friends and what we we'd been up to lately. It's a little strange transitioning from, "You coming out for drinks tomorrow night?" to "Here, catch this baby! It's slippery!" and then right back to, "So what are you up to next weekend?" Still, I wouldn't have it any other way. She was so thoughtful, knowledgeable, and supportive, and she managed the whole process so perfectly.
But Sheryl had a floor full of other patients that day, so a few minutes later, she too was gone.
And then it was just Don and I, marveling at how lucky we were to have a healthy, beautiful little baby boy in our arms. We still haven't stopped marveling.